The belt type continuous vacuum packaging machine is ideal equipment for packing meat products, seafood, medicine, electronic components, hardware, and medical instruments etc. It can vacuum seal most plastic and plastic-aluminum laminated bags.
The machine features very convenient operation with the conveying belt automatically discharge finished packs to main conveying belt or carton container. Effectively reduce operator's burden, improve packing efficiency.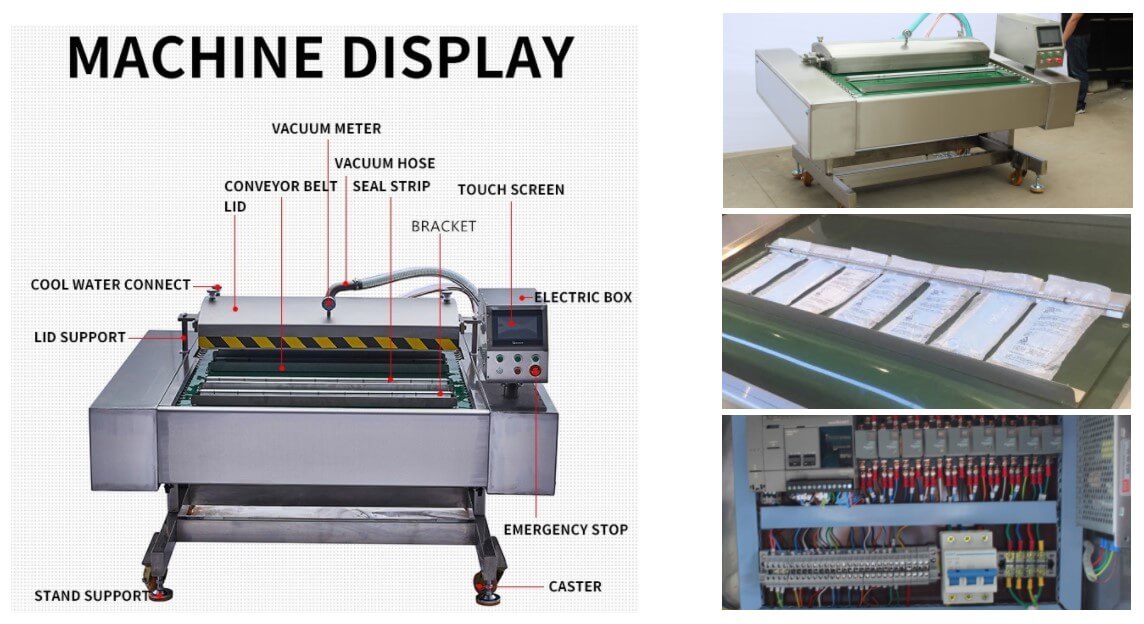 Complete stainless steel structure for maximum durability
Hygienic design, easy to clean
In case of packing plenty of liquid products, adjust the angle of the conveyor table to prevent the product overflowing
The conveyor belt features automatic washing which is conveniently done by simply connecting it to a water hose
Highly efficient European vacuum pump
Microcomputer control system & electrical box are waterproof
Simple to operate microcomputer control system with multiple program setting options
Stainless steel chain meets food sanitary requirements and ensures product quality
Applicable for various mass production factories
Packaging Process

One line → Belt transmission → Vacuuming → Gas flushing → Sealing → Lid opening → End product discharge
Options
Special design is available for various product
Gas flushing, water cooling, cutting system (cut off remaining pouch)
Functions
Maintain food's freshness and original flavor
Anti-spoiling
Prevent electronic and hardware parts from oxidization
Extend product shelf life
Available for special applications
Applications
Freshmeat, seafood, pickled vegetables, agricultural products, herbs, powder, spices, bean paste and prepared foods...etc.
Electronic parts, hardware products, medical instruments, medicine, ...etc.
Tiltable work table
It's easy to tilt work table.
Just fix screws on different holes.
Flipable chamber lid
User can easily flip the chamber lid, to maintainance or change heat strip
Adjustable seal distance
The seal distance can be changed by tighten bracket on belt, to suit different bag size.
Quality conveyor belt
The conveyor belt is food grade, and easy to clean.
Emergency stop
Press emergency stop in case of any urgency, the machine stop and lid open immediately.
Caster and support
The machine is installed with caster and strong support. The casters are with brake.
Easy read touch screen
Installed with IDEC PLC + Weinview touch screen. It is easy to set and read.
Quality vacuum pump
ZD is the top quality in China.
Busch is imported from German.
Both brand vacuum pump for option.

Cooling water recycle
Cooling water recycle in the heat strip, so that to protect it when machine runs continuously.
Tags:Conveyorized Vacuum Packaging Machine,Automatic belt vacuum packer,Flat Belt Vacuum Machines,Continuous conveyor belt vacuum packaging machine,conveyor belt vacuum packaging machine,Vacuum Packaging Machine,vacuum packing,vacuum pack machine,vacuum machine
①If you want to check other vacuum packing machine,
please check all model via https://www.wecanpak.com/products/
②If you want to know which vacuum packing machine suitable to pack your product
and get more details and free quote,please contact us directy on followong form for more details and price or email wecanpak@wecanpak.com whatsapp/wecanpak +8613962950647