The double chamber vacuum packing machine is a typical type of chamber vacuum sealer, designed for the small and medium-size production capacity of vacuum sealing.
Compared to single chamber vacuum sealer, a double chamber vacuum packing machine owns 2 working chambers and 1 swingable chamber cover. The two chambers work alternatively to enhance the vacuum packing speed of the double chamber vacuum packing machine to 2 times of single chamber vacuum sealer.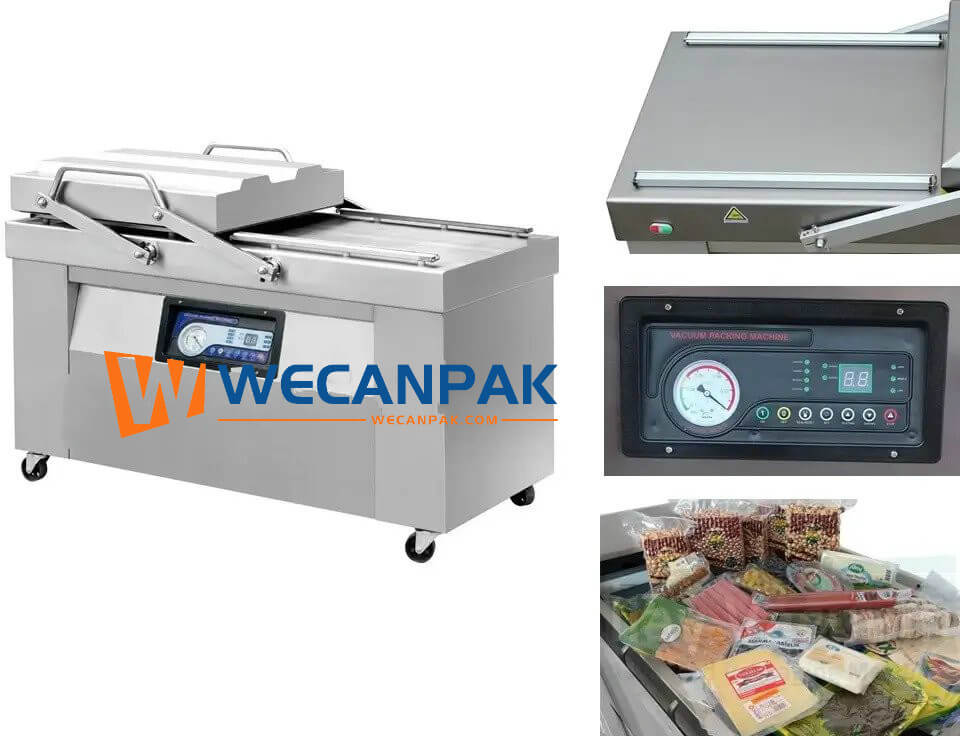 | | |
| --- | --- |
| Model | DZ-4002SB/DZ-5002SB/DZ-6002SB(3sizes/3models) |
| Voltage | 200V/380V(can be customized) |
| Vacuum pump | Chinese ZD vacuum pump or Germany Busch vacuum pump |
| Power of pump | 0.75kw-2.5kw |
| Sealing | 2pcs*400mm/500mm/600mm length,width 10mm |
| Power of heating | 0.8kw/0.9kw/1.0w |
| Packing capacity | 1-3cycles/min |
| Size of vacuum chamber | L500mmW520mm/L600mmW590mm/L720mmW660mm* H100mm |
| Material of machine body | 304 stainless steel |
| Overall size | 955mm*620mm*930mm /1195mm*690mm*930mm/1410mm*760mm*930mm |
| Net weight | 190kg/225kg/365kg |
| Control system | Time control with PCB |
| Gas flushing | Optional |
| Certificate | CE |
Features
Complete stainless steel structure for maximum durability
Hygienic design, easy to clean
Flat deck construction ensures easy cleaning and product handling without space restriction
Two vacuum chambers configuration permits alternative operations for one operator
Highly efficient European vacuum pump
Microcomputer control system & electrical box are waterproof
Simple to operate microcomputer control system with multiple program setting options
Vacuum chamber with solid height adjustable filler plates
Applicable for various mass production factories
Options
Special design is available for various product
Chamber height 250mm, 300mm
Gas flushing, bi-active sealing system, cutting system (cut off remaining pouch)
Functions
Maintain food's freshness and original flavor
Anti-spoiling
Extend product shelf life
Prevent electronic and hardware parts from oxidization
Available for special applications
Applications
Fresh meat, seafood, pickled vegetables, agricultural products, herbs, powder, spices, bean paste and prepared foods...etc.
Electronic parts, hardware products, medical instruments, medicine, clothing or blankets...etc.
TAG: double chamber vacuum packing machine

①If you want to check other vacuum packing machine,
please check all model via https://www.wecanpak.com/products/
②If you want to know which vacuum packing machine suitable to pack your product
and get more details and free quote,please contact us directy on followong form for more details and price or email wecanpak@wecanpak.com whatsapp/wecanpak +8613962950647

Tags:
Vacuum packer for Medical instruments: gauze, medical garments, surgical masks, N95 masks, swab, syringe, medical stool device, saliva device, etc.
Vacuum sealing for Hardware: Bearings, electric toothbrush heads, laboratory equipment, etc.
Vacuum pack for Chemical products, etc.