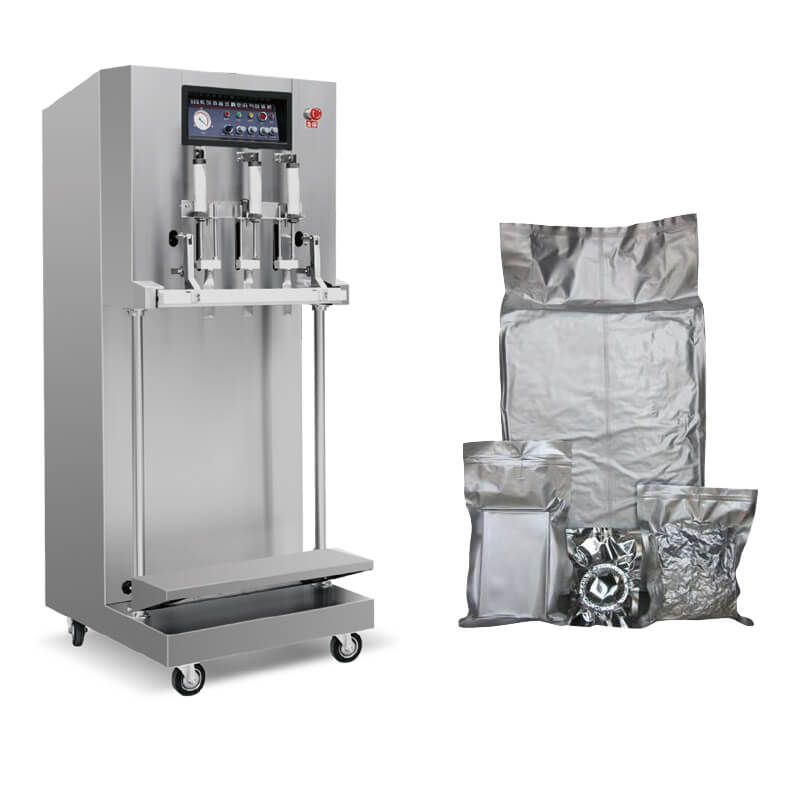 Multi functions
Function 1.
Vacuum-seal
Function 2
. Vacuum-gas flush-seal
may co khi external vacuum packing machine vertical big bag outside type vacuum packaging machine price nuts
Advantage
--- Support big bag and wide range of bags material also thickness.
--- Only cost 15s-20s per cycle.
--- Low gas consumption, and it can fill sufficient gas into bag.
--- Easy to operate and maintain.
--- Equipped with oil/water seperator and dust filter.
--- Height of work table is adjustable.
--- Flow of gas flush can be adjusted.
--- Low noise.
Model
DZ-600F
DZ-700F
DZ-800F
DZ-900F
DZ-1000F
DZ-1200F
Seal size
600*8mm
700*8mm
800*8mm
900*8mm
1000*8mm
1200*8mm
Maxi bag size
580*900mm
680*900mm
780*900mm
880*900mm
980*900mm
1180*900mm
Nozzle number
Stand machine is 2 nozzles. 3 or 4 nozzles is optional
Material
304 grade stainless steel
Voltage & power
110V/220V/240V/380V 50HZ/60HZ 1 or 3 phase 0.75-1.2KW
Heat system
Single heat system
Controller
Waterproof PCB controller, language in English
Function
Vacuum, gas flush, seal. Gas flush function can be closed if need
Spare parts
1 set wre nch, allen key, teflon cloth, heat strip, English manual
Overall size(L*W*H)
700*700*1800mm
800*700*1800mm
900*700*1800mm
1000*700*1800mm
1100*700*1800mm
1300*700*1800mm
Net weight
150KG
160KG
180KG
200KG
220KG
240KG
Air compressor
Air compressor is required for this machine, buyer shall prepare it himself.
If bag thicker than 0.2mm, we suggest double heat system, with extra cost.
Max 4 nozzles can be equiped for customized machine, with extra cost.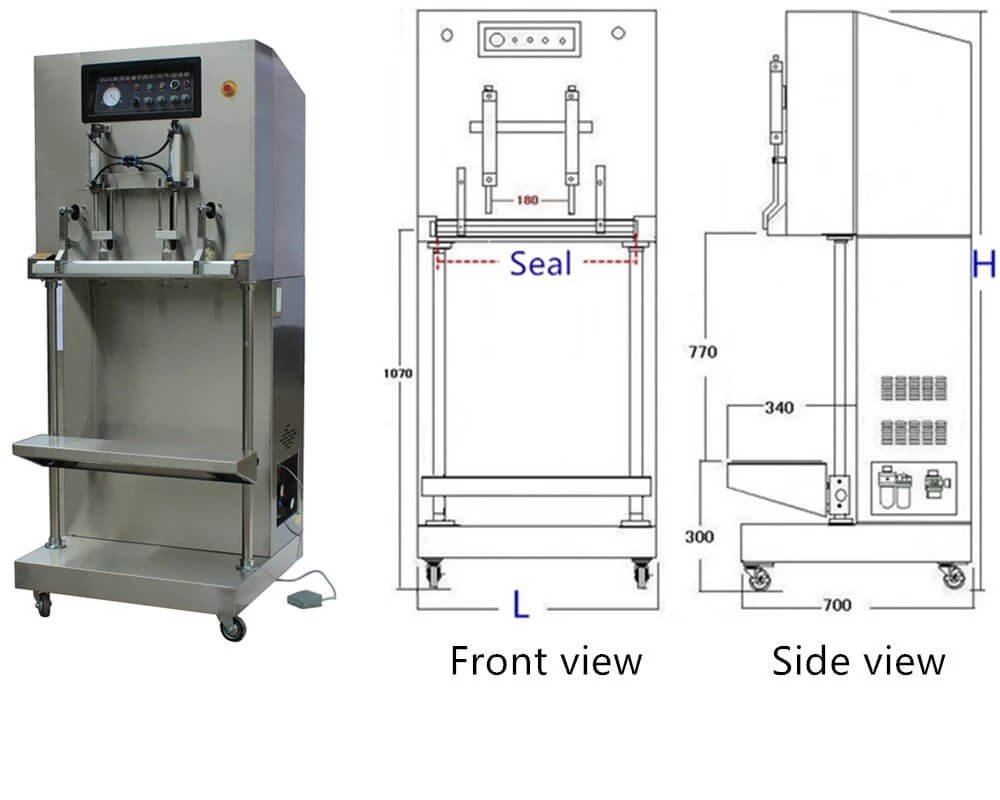 tag:DZ 600 F Vacuum Seal Packing Machine
①If you want to check other vacuum packaging machine,
please check all model via https://www.wecanpak.com/products/
②If you want to know which vacuum packaging machine suitable to pack your product
and get more details and free quote,please contact us directy on followong form for more details and price or email wecanpak@wecanpak.com whatsapp/wecanpak +8613962950647