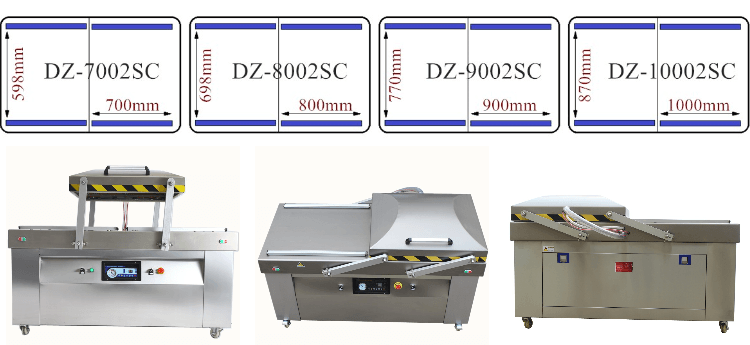 1. Food grade 304SS for machine body.
2. Big vacuum chamber and long seal.
3. IP65 grade, and flat work table. User can clean it easily.
4. Function: Vacuum+seal. It prolong store life of your products.
5. Accept customized requirement for deep vacuum chamber, automatic swing lid, control panel, vacuum pump, gas filling, full 304SS etc.
Ruibao 304SS automatic swing lid vacuum packing machine for food meat fish DZD-680/2SD made in China
Parameters
Price online here is based on standard machines with following paramters
Model
DZ-7002SC
DZ-8002SC
DZ-9002SC
DZ-10002SC
Machine body
Food grade 304SS for its surface, work table and swing lid
Inside frame
Painted iron
Work table
Flat work table
Chamber depth
120-180 mm (the chamber depth is in the swing lid)
Chamber size
800*720*180mm
900*820*180mm
1000*900*180mm
1100*960*180mm
Sealing length
700mm
800mm
900mm
1000mm
Sealing width
10mm
10mm
10mm
10mm
Sealing number
2pcs
2pcs
2pcs
2pcs
Distance between seal
598mm
698mm
770mm
870mm
Vacuum pump
ZD brand 63m3/h
ZD brand 63m3/h
ZD brand 100m3/h
ZD brand 200m3/h
Main power
approx 1.5KW
approx 2KW
approx 2.5KW
approx 3KW
Voltage
380 V/450 V 50 HZ/60 HZ 3 phase (or customized)
Pack capacity
1-2 cycles / min
Swing lid
manual swing lid (Automatic swing lid is optional function)
Control panel
PCB (Relay / PLC are optional controller )
Weight(w.o pump)
260KG
320KG
385KG
450KG
Overall size(mm)
1615*830*1050
1815*960*1050
2015*1030*1050
2215*1130*1050
Function
vacuum+seal (Gas fill is optional function)
Certificate
CE
Guarantee
1 year (for main component, exclude durable spare parts)
Language
Control panel and printed manual in English language
Lead time
15days to get machine ready for standard machine. Need negotiate for customized function.
Application
22
Product
a. Beans, meat, fish, sausage, cheese, fruit, vegetables,
hardware, electronic etc.
b. Forms of products, solid, liquid, powder, paste etc.
Bag type
a. Bags with zipper, folder, or 3-seal side.
b. Material. Paper, plastic, aluminium.
Customized functions you may need
We have many customized functions for your options.
Please specify if you need any of them. There will be extra cost for some function.


Standard. flat work table Customized. a. Maxi 250mm deepb. Distance between seals can also be customized.



Swing lid
Standard. manual Customized. Automatic a. Automatic swing lid will save labor power for you. b. Two automatic modes for you. c. You can switch any as you like.
Control panel
Standard. PCB PCB support vacuum or gas fill. Customized. Relay /PLC a. Relay does not support gas fill. b. PLC support more option than vacuum /gas fill

Gas flush
Standard. No gas flush
Customized. With gas flush


Vacuum pump
Standard. ZD brand ZD brand has top quality in China.
Customized. Busch brand
Inside frame
Standard. Iron with paint.
Customized. 304SS 304SS inside frame will make machine more durable, especially in heavy enviroment.


Hand press protect
Standard. Not include. Already put emergency stop in case of hand press. Customized. Include It upgrade the safe grade. Once the machine find there's hand, the lid will open automatically.

Voltage
Standard. 380V 50HZ 3Phase. Customized. other voltage 380V/415V/450V 50HZ/60HZ 3Phase No extra charge for this.

Plug
Standard. as in above picture. Customized. Others. We can purchase other plug as required. No extra charge for this.
Tag:Heavy Duty Double Chambers Vacuum Packaging Machine,air tight packing machine
①If you want to check other vacuum packing machine,
please check all model via https://www.wecanpak.com/products/
②If you want to know which vacuum packing machine suitable to pack your product
and get more details and free quote,please contact us directy on followong form for more details and price or email wecanpak@wecanpak.com whatsapp/wecanpak +8613962950647