semi-automatic cling film packaging machine with weighing and labelling for supermarket food fruit vegetable meat seafood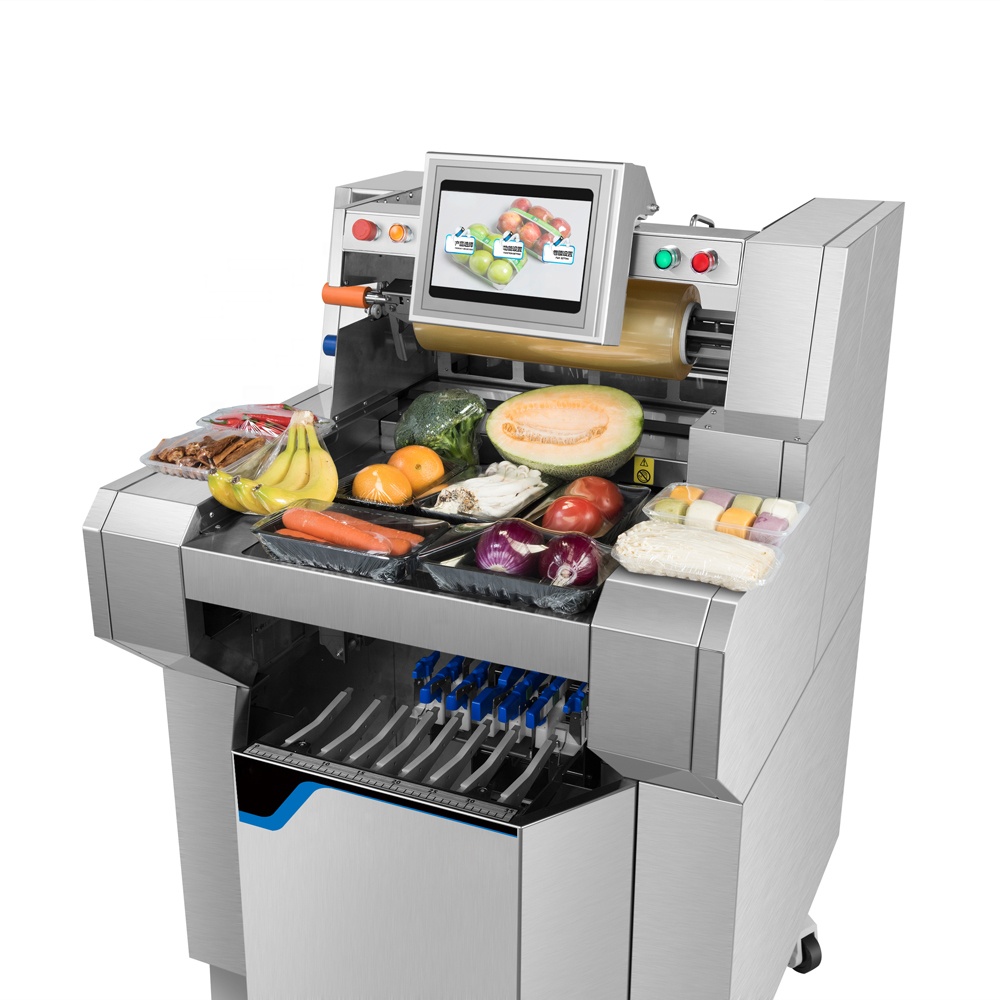 1)It combines the functions of automatic packaging, weighing and printing labels to save costs.
2)The packaging is firm and beautiful.
3)Compared with the manual packaging, the Freshare series of products are used to make the packaging more firm and beautiful, which helps to enhance the brand value. 4)More choice of consumables A variety of films (PVC/PE) are available for cost savings; some brands of similar equipment can only use the specified film. In addition, it can be packaged with or without trays, and is suitable for trays of various shapes (such as round, hexagon, etc.)
5)High quality material The whole machine adopts stainless steel to adapt to the corrosive environment such as high humidity; the similar equipment of other brands only partially or completely does not use stainless steel, and is easily corroded under harsh environment.
6)Very comfortable to use The operation interface is simple in design and fast in response; it adopts special mute processing, which is less noisy and more comfortable to use than other similar devices.
7)Exquisite workmanship Overall welding processing, equipment stability is better than similar equipment of other brands.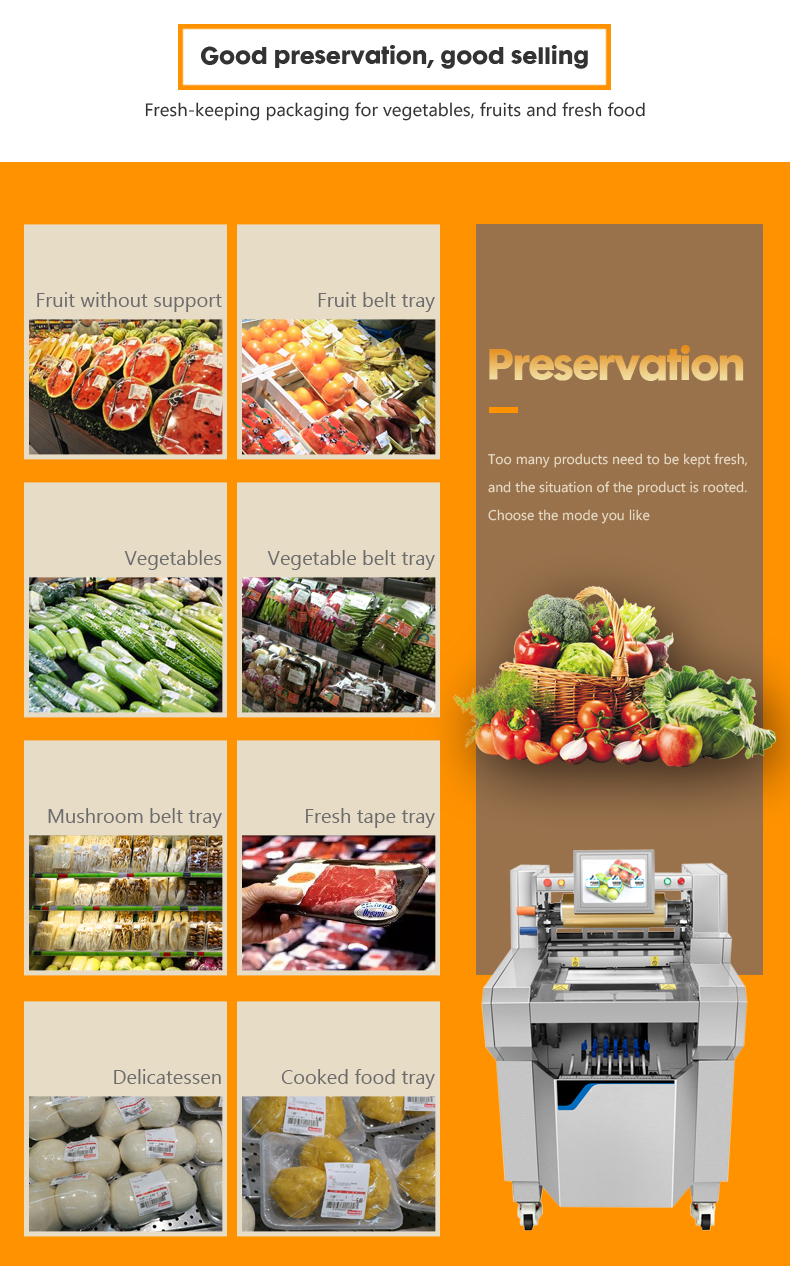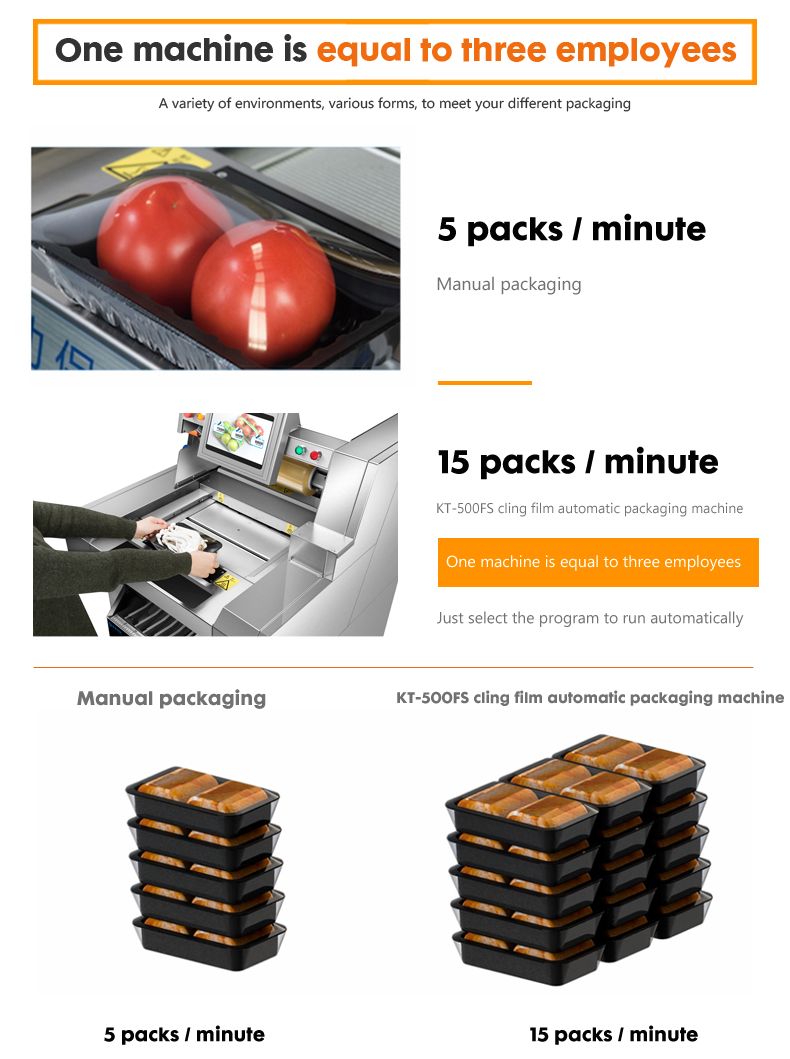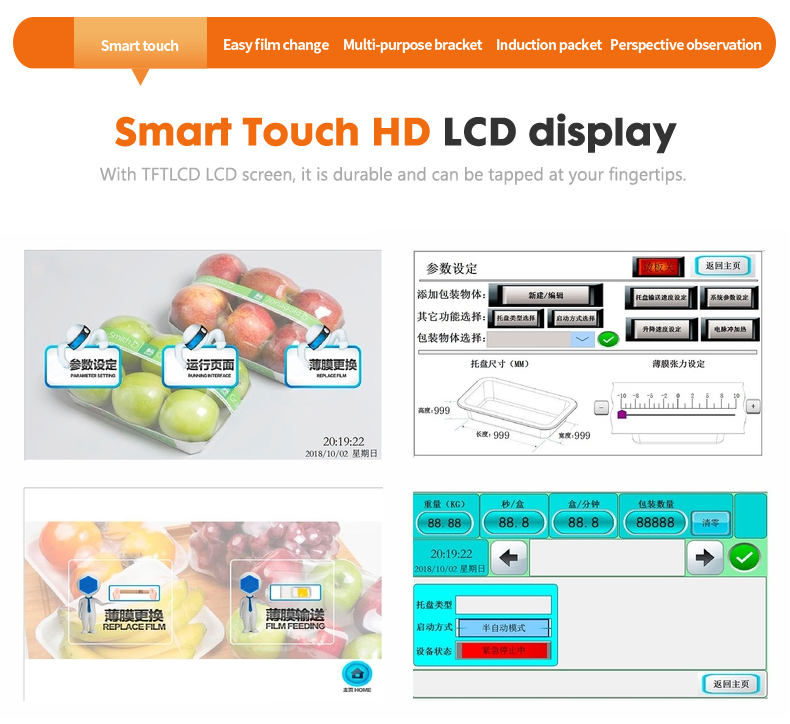 型号

Model

WK15A

机器尺寸

Dimension

L840*W888*H1415mm

薄膜宽度

Film Width

300 - 500mm

薄膜数量

Film Roll

1 roll

包装尺寸

Packaging Size

L 80-350mm

W 80-230mm

H 10-150mm

包装速度

Packing Speed

15 bags/min

包装重量

Packaging Weight

100g - 3kg

显示屏

Display

10.2"TFT彩色触摸屏(16:9)

10.2" TFT Colorful Touch Screen(16:9)

显示屏分辨率

Display Resolution

1024*600

操作方式:

Mode Of Operation

机械按键+高精度触摸操作

Mechanical Key + High Precision Touch Operation

电源规格

Voltage

220V,50Hz

功率

Power

1.86kw

工作湿度

Working Humidity

10-90%RH
Automatic plastic wrap packaging machine - fast (fast package) - good (package good) - province (cost saving)
Automatic weighing, packaging, label printing, manual labeling, can be packaged without tray
Product introduction:
It is easy to operate, safe and hygienic, fast and efficient, and can pack 15 trays per minute.
The length of the cling film of different tray sizes can be set arbitrarily and fully computer controlled.
Scope of application:
Vegetable bases, distribution centers, supermarket chains, clean vegetable processing, fresh logistics and other enterprises.
Features:
The wrap film retains the wrinkles of the wrap and increases the transparency of the surface.
By making the product look fresh and attractive, you can reduce the use of plastic wrap and save on its cost of use.
The method of replacing the cling film is extremely simple, and it is ensured that the operator can smoothly complete the replacement of the wrap film in a short time and reduce the working time.
Compact design reduces the footprint.